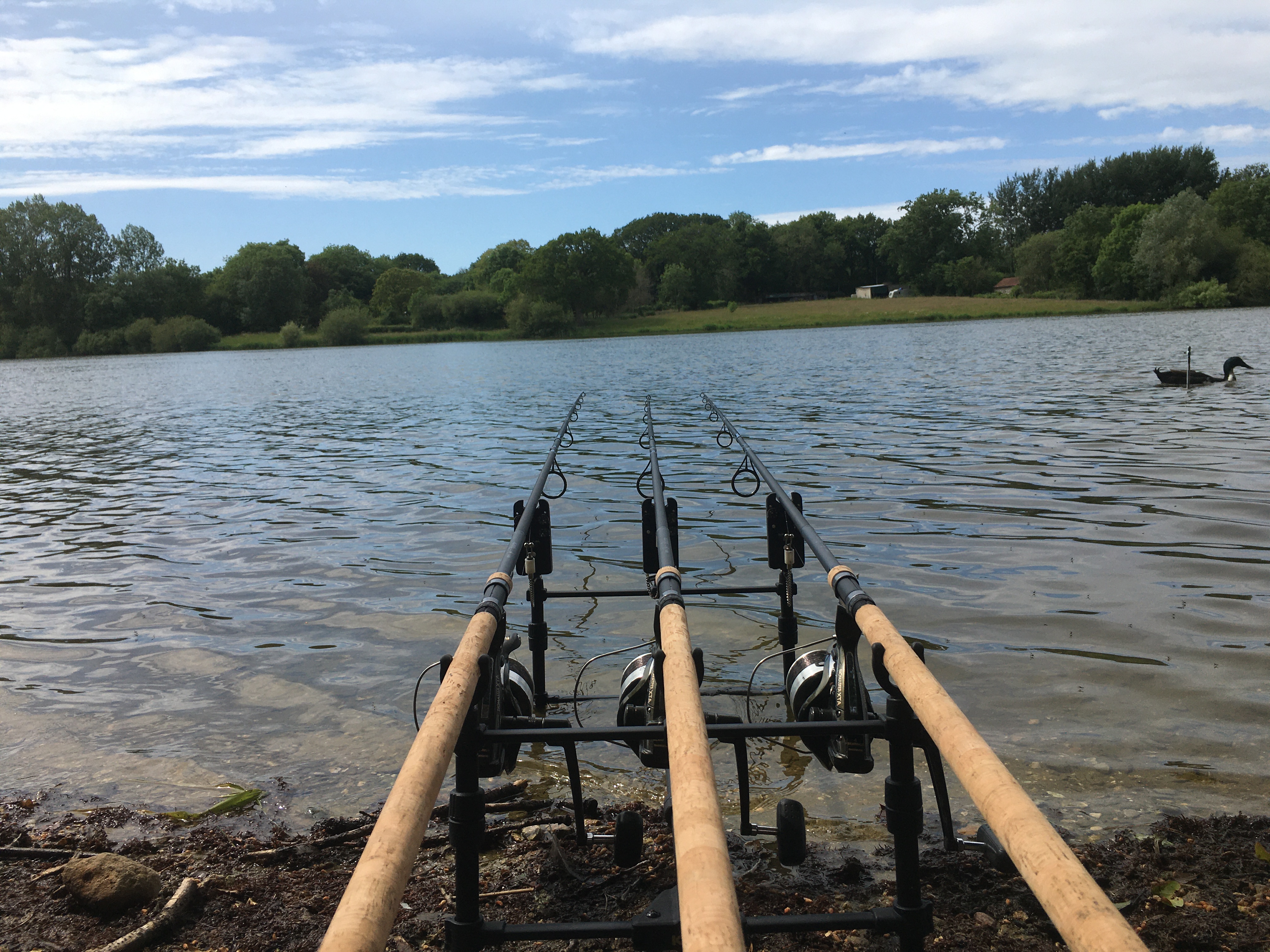 Posts

818

Joined

Last visited

Days Won

25
Profiles
Forums
Gallery
Calendar
Articles
Everything posted by jh92
I've been defeated, had 11 carp in total, a shoal of stockies moved in on my bait and it was run after run. I didn't get to bed until 5am for an hour. New rig on, wrap up to 100 yards, get it out properly then a couple spombs over the top. It felt relentless, I had a double take at one point as well 😆 I got cut off by a mussel I believe, had a drop back, lifted into it and there was nothing there, no rig or anything, so ended up fishing the one rod early hours of this morning. I've ran out of leaders, hook link, got about 2 hooks left, hardly any bait left, low on leads, and all my clothes were soaked, ended up just lying on top the bag this morning for an hour. Just got home, I feel like I'm done for a while now 😂😂 By the way them Cygnet hooks didn't do it for me, 2 takes and both times they managed to shake the hook before I lifted into it.

Always the way mate, hopefully it stays quiet until the rain has passed for you😆 yeah I've been watching the forecast on my phone, apperently I got some heavy rain coming in for about 6 hours tomorrow morning. Won't be packing up in that 😆 Just had another common about 5lb 👍

Had another common about 12lb and missed one, I think it might of been a fish trailing line cos I lifted into it while it was taking line, nothing there, checked the rig and the silicone hasn't moved on the hook, so don't think it was a take as such lol. Have you had any joy yet??

Off the mark with this old warrior, big wound on the side, not sure if possibly otter damage? Anyway it hit just over 18lb 👍👍

Traps are set 🤪 couldn't get out yesterday but have today, strong wind in my face, lovely 😆 Good luck @finchey hope you get a bend in the rod 👍 and good luck to anyone else who's out. I really am enjoying this weather though 😆

Bought a pack of Cygnet size 4 curve shank hooks. A few people have said they are pretty decent so going to give them a try. The pack of korda kurv hooks I bought in size 4 have given solid hook holds but bent the point over every hook up. So was 1 hook per fish and couldn't sharpen it enough to re use it. I still have the korda hooks so will have 1 rig with a korda hook and the other with a Cygnet and compare them if I can get a hook up on each 👍

New weather front coming in tomorrow, low pressure, big winds and lots of rain. My last session was supposed to be my last for a while but I think it might be too good to miss. The reservoir I'm on can produce some big fish during storms 😆 checking the forecast I can get setup in the morning before it arrives 👍

My take on it is, a social is going with a mate or a couple mates or even meeting a few at the lake, all set up close to each other and you have a get together, food and a few bevvies. I do find certain types of waters attract a certain type of angler. There's a lake near me that if you ain't in their little circle, you are pretty much ignored. Usually over stocked puddles with big fish. Not my sort of water anyway lol The reservoir I'm fishing at the moment, everyone I've met has been friendly and helpful. We all share what we've caught, how many wraps, what bait, where any under water snags are etc. Trying to put each other on the fish.

Yeah mate its a great place to fish but the weather can get a bit rough, you are exposed to it 😂 so I cracked off my spomb and asked on the clubs Facebook where the nearest tackle shop was, the bailiff only dropped me down 2 spombs for free. What a legend 👍👍 Fish wise I've done 6 carp, 1 bream and lost 1. Its now raining and I'm 50/50 should I just stay another night so don't hace to pack up wet 😂😂

Long lean little common Little linear, lovely looking fish I think 👌 Also cracked off my spomb. Only one I had, gutted 😂

Yeah mate and slightly left, it shows it dying down this evening for a couple hours so will have a chance to get some bait out then hopefully 👍 Just seen a fish top out in front of me. Awesome 😆

Rods are out 👍 the wind is savage, big northerly with gusts of 40mph. I can't get my rods out properly so just put out 2 singles for now. Hopefully spod some bait out later when it dies down a bit 😂 anyway I'm here, set up in my favourite swim so it's all good 😆

Yeah mate left rod and the margins ain't very nice, shallow with rocks and submerged treestumps 😂 I love the big open waters, you don't really know the stock etc. A little bit of mystery to the place 👍 I went back up there today only to find my wheelbarrow wheel had popped. Managed to find a little garage in the middle of nowhere that could sort me a new one. £15 sorted. Headed back to the reservoir only to find most of the swims had been taken. It was really rammed, I managed to find one spot but I wasn't feeling it, spoke to the bailiff and there's a match on tomorrow so everyone has to be off by 8am tomorrow. That was it really I loaded the gear up and headed back home. I plan to return tomorrow after the match, hopefully be one of the first there so can get a decent swim. It will probably be my final stint there for a while so decided on doing a minimum of 3 nights 👍

I've just played with the camera settings, I've managed to set it so it takes a picture whenever I talk with the app open. Hopefully get a few more shots lol. Thanks for that mate it's much closer, I appreciate it 👍👍

Yeah and no, I'm getting the shots right but it's not always taking them when I ask. Need to download the whistle app I think 😆😂 Had a belting run at 2 this morning, running down over the stones bare footed in the rain to hit it, struggling around to get my waders on. Fish gets closer in and I net it... 3lb common 😭😂 then wrap up to 30 wraps to get it back out again 😂 Anyway I was gonna do a few days but needed up packing up this morning. Probably head out again later or tomorrow 👍

Nice common just bouncing over 22lb 8oz 👍 had a nice little mirror before hand probably low double 👍

Just checked out the price of them, I think I will shut up and make do with what I got 😂😂

Thanks mate I will keep an eye on them. My esp ones are in the post but picked up some korda sub line ones from a shop. I'm quite chuffed with them I'm now hitting 30 wraps with ease 👍 could probably go even further but I will lose all accuracy 😂 I do have question for anyone that does fish at distance. What is the best sort of rig to be using? At the moment I'm using a blowback rig with a 20mm/16mm snowman bait. Size 4 korda krank x hook with esp tungsten loaded semi stiff braid, about 9" long. It's what was doing the business at 20 wraps but wondering if I should use a stiffer boom section?

Is it comfy though? I got the fox r2 camo bedchair with a wychwood 5 season sleeping bag, the itself I think is about 8 or 9 kilos 😆😂

So I've just weighed my bed/bag/pillow and it's bang on 42lb. Think I need an upgrade 😆

Very nice mate, have you seen what sort of stock it holds? Looking wintery where you are already 😂😂😂

Yeah I find them really good for bait too. They've just started doing freezer baits, mainline, sticky etc. Not bad pricing to be fair. Just wish they'd do a bit more terminal tackle and at a cheaper price 😆 korda hooks knocking on £4.99 a pack now 😭😂 Has anyone tried korda basix hooks? They are like £2.49 a pack lol.

I will have to get some ordered. I'm off on a session tomorrow and I've got 3 options, cheap gas stove with the cheap canisters you insert, Coleman petrol stove (hate using it now, the smell of petrol gets everywhere) or just don't bother with cooked food. I reckon I could do a couple nights on sandwiches and crisps etc 😆😂 Anyway just sorting my stuff out before I load the car, thought I'd air the bed out and someone has taken a shine to it 😂

5kg 20mm sticky krill 5kg 16mm sticky krill Sticky krill white pop ups Esp tapered leaders Korda krank x size 4 hooks Korda kurv size 4 hooks Esp tungsten coated braid Korda sub line tapered leaders Gardner intensive care carp spray Milwaukee usb adapter, you can plug your drill/driver batteries into it and charge your phone. On my last reservoir session my phone battery died, the lads next to me let me use theirs. So much better than a standard battery pack so ended up buying an adapter for mine 😆 Is anyone else struggling to get gas? Gooutdoors has been out of stock for a while now, the last tin I got from there was a small one which was [censored]e, didn't burn no where near as good as the old ones I had. By the way I get my bait from Gooutdoors, they are doing an extra 15% off bait at the moment.